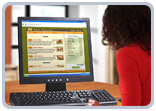 By utilizing Customer2You's advanced online ordering and call center software and the technical expertise and solid managerial structure at Online Orders Now – we provide restaurants of all types with powerful features that enhance marketing and customer service.
At Online Orders Now we are committed to upholding the high quality and outstanding service customers have come to expect. We are ushering in a new era of online ordering.
At Online Orders Now we focus on making the internet experience even more rewarding for consumers and restaurants. We make getting your restaurant started with online ordering easy. Online Orders Now's innovative installation and setup process can have you taking internet orders in as little as 2 days.
We have some exciting new product offerings such as our iPhone and Android applications that allow consumers to download your restaurant application and place orders from their smartphone.
With Online Orders Now Online Ordering, your restaurant will see an immediate increase in volume, greater market penetration, higher average ticket amounts, and lower net costs.
THE BEST PART IS – We Do All The Work!
We could simply import your data and then ask you to fix all of the items, enter descriptions and upload images and logos. Don't you think your time is better spent running your restaurant? Chances are you don't have an extra day to spend modifying items. So, we do it for you.
We will import your menu, setup the correct items, cleanup the modifiers, add the appropriate descriptions and attach all the images and artwork. Altogether it takes about three days to get your restaurant online. To get started, we will need a few things:
A copy of your database: We use this to import the menu items and modifiers. Some people think this is the last step, for us, it's only the beginning.
A copy of your current Menu: We use this to verify pricing, add descriptions and determine the best layout for your restaurant.
Pictures: The more pictures you have of menu items, the more enticing they will be to online shoppers. Remember, a picture is worth a thousand words. You can send professional shots or simply whip out your digital camera and take some nice close-ups of your most popular items.
Powerful Features:
POS Integration
Larger tickets
Automatic Upsells
Order accuracy
Delivery area mapping
Reduced credit card fees
Administration menu
60-day guarantee
CALL US TOLL FREE TODAY (800) 531 – 4767 or CLICK HERE for a free detailed estimate.